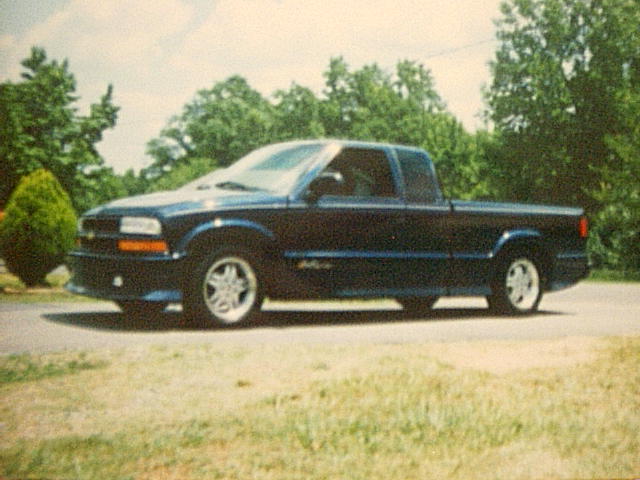 Welcome to My S-10 page
This Web site is dedicated to my Indigo Blue Xtreme. It also includes some pictures and a little info on my other truck a '78 GMC Serria 15. This picture was about 3 days after I brought it home. Sorry if it looks bad, I took a picture of an already developed picture with my digital camera.


Last updated May 07, 2002

My Truck
As I said my truck is an 2000 S-10 Xtreme. It is loaded with every option except the silding rear glass and engine coolant heater. It has the 4.3L Vortec V6 rated by GM at 180 hp and 245 ft/lbs. of torque. It also has the third door, bucket seats, cd player, power windows and locks and all that other stuff also. It is an automatic, which I regret sometimes, but it does have the 3.42:1 rear end.
Send me an e-mail
My mods
Exterior mods: Goodmark 2nd design hood, painted liscence filler, billet bowtie, clear corners, removed badges, Checkmate bedcover, Pop-lock tailgate lock, and a GM rollpan.

Interior mods: Tinted windows, A Pioneer DEH-P77DH head unit, Kenwood kac-716 amp, and a JL Audio 10W0 in a custom box where the jack used to reside.

Engine mods: K&N Gen II Intake, Flex-a-lite Black Magic #60 fan, Hypertech power programmer, 160* thermostat, TPS-TEC, limited EGR, removed throttle blade, JBA Headers & plug wires, Custom Flowmaster exhaust.

Drivetrain/Suspension mods: 1" belltech blocks (still to be installed), Hop Shock off a '99 'noma, 255/50/16 BFG Comp T/A VR4's (not really a mod, but awesome tires!!) Zexel-Torsion LSD.
Future Mods
Wheels are about all thats left besides an engine swap that will never happen. I want one of the three. American Racing Torque Thrust II's, Crager SS's, or '01 ZQ8's polished out.
My other baby!
As you probably gussed, this is the part about my fullsize. Its a '78 GMC Serria 15. It is equipped with a .040" over 350, that sports a 222 degree cam (same from the 350 horse 327 in 69 camaros), long tube headers, custom bent 2 chamber flowmaster exhaust with 3" chrome tips, an edelbrock performer alumium intake, 600 cfm quadrajet and K&N filter. It has been lowered 2.5" up front with spindles and 3" at the business end with a shackle and hanger kit. As advice to anyone lowering their truck with shackles, plan ahead to spend a whole day (in my case 19.5 hrs start to finish). The front end was a piece of cake, drilling the rivits out of the factory shackles at 3:00 am is not fun. Replacing the shackles was the most time consuming part. I beleive that these types of kits provide the best ride (except for air bags, but no one I know has any) and you dont have to worry about suspension travel because the factory springs were kept. The wheels are knock off Weld racing five stars, 15x8 with 255/60 up front and 15x10 with 275/60 smokin in the rear. It also has tinted windows 10% limo (way past legal here in SC, backyard job!) and is home (for now) to the aformentioned stero system. Here lately she has been parked more often, due to rising gas prices and lack of air conditioning.